The Bard Community Sciences Lab has been involved in an ongoing project offering resources and assistance to residents of Dept. of Social Services emergency housing at the Rodeway Inn motel in Kingston. Conditions at the motel have been deteriorating from already inadequate conditions to very unsafe conditions. Without access to clean drinking water, residents were forced to carry in large containers from nearby access points, or purchase large containers from grocery stores–the closest one across a distance of more than two miles of un-walkable highway. The Kingston Emergency Food Cooperative has been providing grocery runs for residents who are without access to those options. We collaborated with KEFC to coordinate installation of a novel water filter design in 12 motel rooms, and simultaneous installation of HEPA air purifiers in rooms where air quality was an issue (all of them).
On April 27th, Ulster County Executive Jen Metzger visited the Rodeway Inn and experienced firsthand the inadequate living conditions that were being offered at the motel. It was then discovered that the motel had an outstanding violation of a wastewater discharge permit from the DEC, which correlated with residents concerns that the drinking water was contaminated with sewage.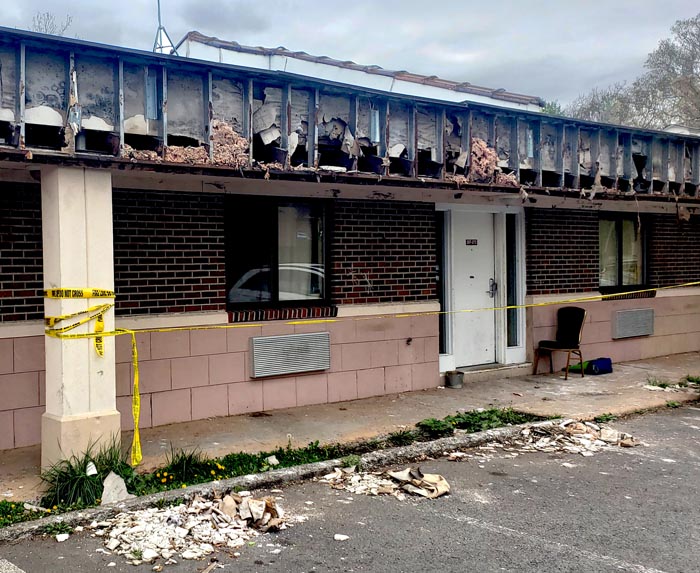 The subsequent week, Metzger called for the cancellation of the DSS contract with Rodeway and ordered the relocation of all residents currently placed there. As of this writing, all residents have been relocated. Metzger has also sent out an RFP for an independent investigation of the current system of emergency housing. We hope this investigation will yield actionable recommendations that include the development of high quality housing.