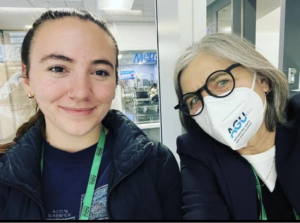 Recently, our very own class of '21 Bard alum Mikala L'Hote presented at the American Geophysical Union's conference session, "Near Real-Time/ Low Latency Data and Tools for Earth Science Applications" with Dr. Beate Liepert (session details HERE). Check out the abstract below, as well as a link to the presentation HERE!
Abstract:
"Creating an Accessible and Interactive Air Quality Data Network for Public Libraries Serving Diverse Communities in the Hudson Valley
Acting as an industrial lifeline to New York City since the turn of the twentieth century, the Hudson Valley region has been historically plagued by anthropogenic air pollution. More recently, with an influx of new residents during the pandemic, traffic levels and residential wood burning has increased the length and intensity of poor air quality days throughout the region. Local and regional air quality is a growing subject of concern amongst Hudson Valley residents as they fear the effects on public health. This presentation describes the deployment of low cost Purple Air air quality monitoring devices at public libraries, serving diverse audiences throughout the Hudson Valley and supplying accessible data to local communities. We chose Purple Air devices for their intuitive interface, from install to easy online user interaction. Utilizing the EPA Air Quality Index (AQI), different air quality thresholds and their potential impacts on human health are colored and visualized. Library kiosks are set up inside, where visitors can explore the Purple Air Map by interacting or comparing local Purple Air data from other locations in the region or globally. In addition, educational resources and community forums are curated and supplied to each library. As community awareness and accessibility of local air quality data grows, citizens can use this tool in real time, especially if they are observing poor air quality in their neighborhood. As the Purple Air network expands across libraries along the Hudson Valley, the data will be analyzed, providing local residents with needed information regarding the air they breathe and the associated health impacts. 
Plain Language Summary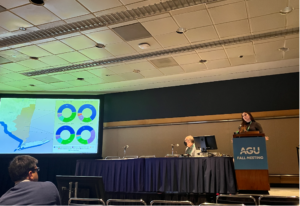 Local and regional air quality is a growing subject of concern amongst Hudson Valley residents as they fear the effects on public health. With an influx of new residents during the pandemic, traffic levels and residential wood burning has increased poor air quality in the Hudson Valley. The deployment of low cost Purple Air air quality monitoring devices at public libraries serves as educational outreach to the communities in real time. As the Purple Air network expands across libraries along the Hudson Valley, citizens can easily compare these data at online local library kiosks."