So Far, Here's What We've Done:
12 Water Filters Installed, 4 Filters Replaced (analysis tbd).
11 Air Filters Installed, 4 Filters Replaced (analysis tbd).
12 living spaces improved across 3 properties.
Emergency Housing in Ulster County
The Ulster County Department of Social Services pays motels to temporarily house folks experiencing homelessness or other emergencies. Some temporary stays last only a few days, while others may span years. Certain households may not qualify for Emergency Assistance, and are simply paying out of pocket to stay in the motels, as there are very few alternative options at this time.
Each household, whether it consists of one adult or an entire family, is placed in a motel room with a bed and a bathroom. According to the Ulster County Emergency Housing Snapshot, released by the Comptroller's office in October of 2021, the County expends millions of dollars every year on emergency housing, half of which is borne by Ulster County taxpayers, with remaining amounts funded by state and federal aid.
Conditions we have witnessed, provided by our tax dollars
Air and water quality challenges in Emergency Housing seem to go hand-in-hand. Despite the fact that most contracted motels are at full capacity, many of these motels disregard necessary repairs of their properties, such as leaky roofs, water and septic systems. Emergency housing residents we've worked with to date sometimes have trouble breathing in rooms, which often do not have adequate ventilation and can have visible mold on walls and ceilings. Many residents have consistently described water that smells of sewage and rotten eggs, and that makes them feel ill. While high sulfur content in aquifer water will regularly result in this, and may not cause physical harm, the emotional and mental trauma of bathing, drinking, and making baby's bottles out of water that smells like sewage is real. Even pre-filtered samples in 250ml bottles that we have taken back to the Community Sciences Lab for testing have filled the entire lab with its sewage-egg smells.
Providing filters for better air and water quality
Short-term and Long-term Relief
The Filters Project, informed by the conditions above, seeks to alleviate some of the health and safety concerns of living in emergency housing conditions. We have collaborated with the Kingston Emergency Food Collaborative, emergency housing residents, concerned community members, and the Hudson Valley Air Quality Collaborative to provide air purifiers and water filters to some residents as a pilot for determining short and long-term solutions to pressing air and water quality issues. We have successfully provided more than 10 water filters and 10 air filters in emergency housing units, and continue to add more as requests come in. We will continue to monitor the effectiveness of the project and plan to share and publish results. Our metrics for project success include clean & improved natural resources for community members, municipal government intervention & response, and expansion of the project to other communities needing safe access to natural resources. This project does not only benefit emergency housing residents — a threat to water and air quality anywhere is a threat to those precious resources for the entire community.
The project aims to provide both immediate and long-term impacts for emergency housing residents. Using simple filter-based approaches, we are giving residents the capacity to actively purify their air and water, and to incrementally increase quality of life as they navigate transitions in their lives. Residents at emergency housing motels are under strict surveillance; there have been reports of cameras on doors and employees entering people's rooms when they aren't there. Our devices are intended to be easily installed and uninstalled, and are basically DIY-level filter approaches that could be purchased at any department store.
As a part of a long-term strategy to upgrade subsidized housing stock in the county, this project is also testing air and water filters for known toxins and allergens to inform future policy and legislation around subsidized housing and our shared air and water resources. To be clear: the filters we are providing are short-term fixes, and cannot themselves provide long-term relief from exposure to bad air and water quality in emergency housing — only the owners of these properties, by performing much-needed infrastructure upgrades and maintenance, can provide the long-term fixes we need as a community.
Through the important groundwork done by community groups and leaders in the emergency housing community, we have been able to provide these resources and information related to improving the provided resource quality for concerned groups. The steps we've taken would not be possible without the cooperative mutual-aid networking established by KEFC, emergency housing residents, HVAQ, and other concerned community members. Please contact us here if you need air/water filters for your subsidized housing situation, and/or if you'd like to help fund a filter package (air and water) for another emergency housing resident in the area. [everest_form id="4167″]
The Water Filters
To provide clean drinking water to emergency housing residents within their rooms, Kleen Water Filters (KX2560) were selected for their ability to filter out sulfur smells (using activated charcoal), lead, chlorine, chemicals, and sediment particles as small as 1 micron. Their small profile and relative affordability made them great contenders for this community-based project. Once assembled, these water filters can be fitted directly onto existing bathroom faucets with a simple twist-on connection. Residents then have the option to direct water through a valve diverter out of the faucet directly (unfiltered), or through the filter and out the end of a 1/4" hose (filtered). This flexible design gives residents full control over the filtration of their water. The water can then be used for a variety of needs, including washing dishes, brushing teeth, and drinking water.
If you'd like to see what the filters look like installed at Rodeway, below is a picture from our initial installation. We had to troubleshoot a few issues, but we were able to make it work, and now at least 10 residents have clean, filtered water!
Below is a diagram of the filter itself, with each piece of hardware labeled.
If you would like to make it yourself or delve deeper into the individual components, links to all parts can be found here. You can also contact us at the Community Sciences Lab for more information.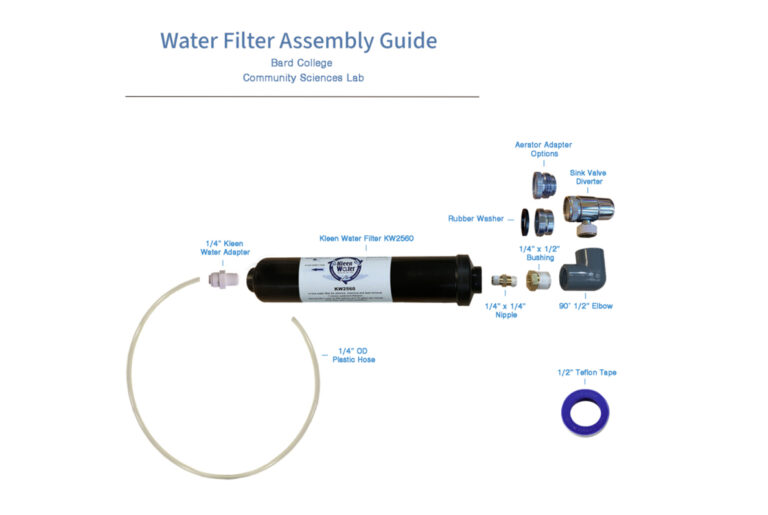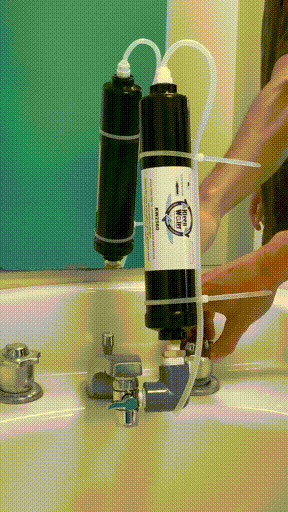 The Air Purifiers
To address air quality challenges, we are currently providing Levoit Core 300 True HEPA Air Purifiers to interested emergency housing residents. We initially deployed five of these devices primarily to families with children. After seeing the success of the initial deployment, we received purchased and deployed ten additional devices.
The filters inside the Core 300 Purifiers are 3-Stage H13 True HEPA Filtration and they have a three-stage filtration system, as shown below.
The devices themselves can be found on Levoit's website or on Amazon. They are super easy to use. Residents only need to remove the plastic around the inner filter, and plug the device in. Here's what the outside of the device looks like: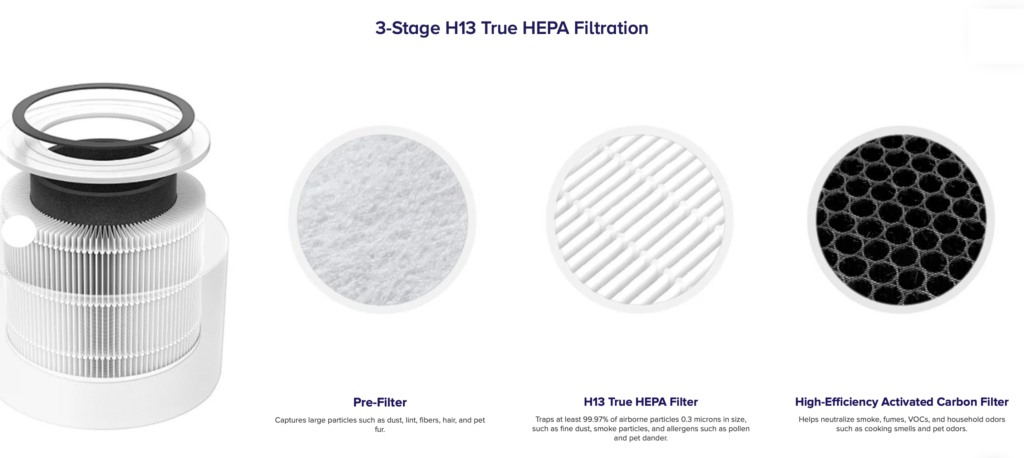 We provided residents with a bit of information, along with the materials included with the Air Purifiers, and an opportunity to provide data for our general air quality analyses:
"In as close to a week as possible, if you are comfortable with this, we can return to swap out the filter piece in your Levoit Air Filter machine for a new one. The filter pieces last about a year, but we will be replacing them and testing the ones we take. These filters will be used to collect data. We want to know what is in the air you are breathing, and it will be in the filter! We will not be using any identifying information associated with your filter, and results we get will be pooled by housing site, and not by room. By doing this, we can provide short-term relief (immediately cleaning your air with the Levoit Air Filters), while also working on a long-term relief plan (putting our data to work). We hope that by doing this, we can make change at a larger level in the future.
If you choose to participate, we look forward to seeing you next week! In the meantime, regardless of your participation in swapping filters, if you have any questions or concerns about anything with the filter, please call the Kingston Emergency Food Collaborative's hotline and leave a message explaining the situation. Someone will be in touch soon after. KEFC Hotline: (888) 316-0879 **Please Note: Before using your filter, MAKE SURE to take out the inner filter piece and remove the plastic around it, then put it back in. The machine will not work (and may actually break) if this step is missed."
The Bard Community Sciences Lab, as part of the Bard College Center for Environmental Sciences and Humanities, uses science as a tool to support community access to clean air and clean water. We provide short-term solutions while conducting long-term research with communities who routinely do not enjoy clean air and clean water in their homes, their outdoor environments, and/or their working environments. In consultation with community leaders, we develop innovative methods to rapidly assess and address challenges to water and air quality, especially in vulnerable communities. In doing so, we are participating in building stronger community-wide capacity to persist in the face of climate change and other ongoing challenges we all face as we strive to live healthy and productive lives.

We also collaborate closely with other faculty and students at Bard College who are addressing the pressing issues of housing and environment in the Hudson Valley, including members of the Human Rights Program, Environmental and Urban Studies, Sociology, and Biology programs. We welcome anyone interested in this issue to join our efforts to make a better, safer, healthier environment for us all!